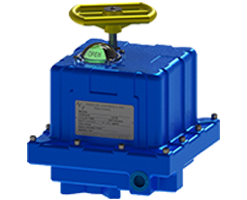 ICI's M series rotary electric actuator was designed for quarter turn valve and damper applications requiring up to 1500 lb·in torque. This heavy-duty reversing actuator has been manufactured for over twenty years and has achieved an impeccable reputation for reliability in applications requiring repeated superior performance year after year. This machine has a hardened steel spur gear drive train guaranteeing high efficiency, quiet operation and long trouble free life and, as in all ICI actuators, can withstand stall conditions without suffering gear failure. The heavy-duty sand-cast aluminum enclosure meets NEMA 7 specifications and has a thermally bonded ultraviolet resistant polyester powder coating that not only enhances its appearance but also is a tough corrosion resistant coating.
Standard equipment includes 115Vac-1ph 25% duty cycle motor with thermal overload protection, declutching manual override with hand wheel, two limit switches wired for light indication, stainless steel fasteners, 300 series stainless steel output drive, polyester powder coating and spring friction brake.
Specifications
Print Specifications
Output Torque

400 Lb-In (45.2 Nm) model MS
675 Lb-In (76.3 Nm) model MR
1000 Lb-In (113 Nm) model ML
1500 Lb-In (169 Nm) model MH
Cycle Time:
10 sec/90° rotation model MS (formerly model SH), 15 sec/90° models MR & ML, 30 sec/90 model MH
Duty Cycle:
25%
Motor:
115Vac-50/60Hz-1Ph.
OPTIONAL VOLTAGES:
12Vdc, 24Vdc, 24Vac (24Vdc rectified) & 230Vac-50/60Hz-1Ph. with thermal overload protection and spring friction brake.
Lock Rotor Current
115Vac. = .75 Amps.
230Vac. = .38 Amps.
12Vdc. = 4.0 Amps.
24Vdc. = 3.2 Amps.
24Vac. = 3.2 Amps.
Enclosure:
NEMA 7 Standard
Die-cast aluminum with 300 series stainless steel captured screws and thermally bonded polyester powder coating.
OPTIONAL ENCLOSURES:

NEMA 4X & NEMA 7
Output Drive:
ISO 5211 F07 (17mm female star) 300 series stainless steel.
Mounting:
Universal, ISO 5211 F07 mounting pad
Manual Override:
Standard, declutching with hand wheel
Lubrication:
Permanent
Temperature:
-40° F to +140° F (heater required at 0 F. and below).
Weight:
13 Lbs. models MS, MR & ML, 17 Lbs. model MH & all models rated NEMA 7
Switches:
16 A. 125/250VAC
Certification:
CSA NEMA 4 & NEMA 7
AVAILABLE OPTIONS:
Extended duty (75%) motor (cycle time MS=20 sec/90°, MR & ML=30 sec/90° & MH=60 sec/90°), maximum of 4 auxiliary switches, power off brake, feedback potentiometer, 4-20mA positioner (equipped with 24vdc power supply for transmitter), 4-20mA position transmitter (requires 24Vdc power supply), compartment heater, heater and thermostat, breather, three position control, light indication, two wire control, timer, speed control, remote/off/local control panel, electronic torque sensor and one additional ½" NPT conduit entry.