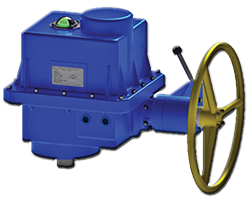 This series of heavy-duty reversing actuators were developed in 1995 and went into production early in 1996. ICI's K series rotary electric actuator is a machine that was designed to automate quarter turn equipment requiring up to 27300 lb × in (2275 lb × ft) torque. The K series actuators are equipped with a combination spur gear-worm/worm gear drive train providing efficient and quiet operation, resistance to back driving and long maintenance free service. The heavy-duty sand-cast aluminum enclosure meets NEMA 4 specifications and is equipped with a thermally bonded ultraviolet resistant polyester powder coating that not only enhances its appearance but is also a tough corrosion resistant coating.
Standard equipment includes 115Vac-1ph continuous duty motor with thermal overload protection, heavy duty hardened steel spur/worm with bronze worm gear, electronic torque sensor, two limit switches wired for light indication, stainless steel fasteners, 300 series stainless steel output drive, declutching manual override with hand wheel, visual position indicator and polyester powder coating.
Specifications
Print Specifications
Output Torque
Model 5k = 5000 Lb-In (565 Nm)
Model 7k = 7020 Lb-In (793 Nm)
Model 12k = 11520 Lb-In (1302 Nm)
Model 14K = 14040 Lb-In (1586 Nm)
Model 19K = 19020 Lb-In (2148.97 Nm)


Model 27K = 27000 Lb-In (3084 Nm)

Cycle Time:

Model 5K, 7K, 12K & 14K = 68 sec/90° rotation, Model 27K = 136 sec/90°
Duty Cycle:
Continuous
Motor:
115Vac-50/60Hz-1Ph.
OPTIONAL VOLTAGES:


12Vdc, 24Vdc, 24Vac (24Vdc rectified) 230Vac-50/60 Hz-1 Ph. with thermal overload protection. 230 or 460Vac-50/60 Hz-3 Ph. with thermal overload protection.
Lock Rotor Current
115Vac. = 4 Amps for model 5K, 7K & 12K, 15 Amps for model 14K, 19K & 27K
Enclosure:

NEMA 4 Standard
Sand-cast aluminum with 300 series stainless steel fasteners and thermally bonded polyester powder coating.
OPTIONAL ENCLOSURES:
NEMA 4X & NEMA 7
Output Drive:
Male with double D shaft, ISO 5211 F14 optional. 300 series stainless steel.
Mounting:
Universal, ISO 5211 F05 mounting pad
Manual Override:
Standard
Lubrication:
Permanent
Temperature:
-40° F to +140° F (heater required at 0 F. and below).
Weight:
30 Lbs. models MS, MR & ML, 17 Lbs. model MH & all models rated NEMA 7
Switches:
16 A. 125/250VAC
AVAILABLE OPTIONS:
Maximum of 4 auxiliary switches, power off brake, feedback potentiometer, 4-20mA positioner (equipped with 24vdc power supply for transmitter), 4-20mA position transmitter (requires 24Vdc power supply), compartment heater, heater and thermostat, breather, three position control, light indication, two wire control, timer, speed control, remote/off/local control panel, electronic torque sensor and one additional ¾" NPT conduit entry.