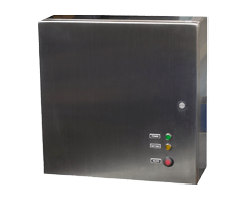 The first product manufactured by Indelac Controls, Inc. over 21 years ago was our electric fail-safe device. This device was designed for critical applications where the loss of power to the electric actuator could be damaging to a system or process controlled by the actuator. Our electric fail-safe control panel device is a battery backup power supply that delivers 115V/1Ph/60Hz power automatically to the actuator upon loss of utility power.
The square sine wave power supply is routed to the operator-selected designated fail position which drives the actuator opened or closed as selected. Upon return of utility power, the electric fail-safe device automatically reverts to standby status, allowing the control of the actuator to transfer back to the controller.
The actuator will travel to the position transmitted by the control panel at the time the utility power resumes. Since our electric fail-safe device delivers 115V/1Ph/60Hz power, it can be used with any 115V/1Ph/60Hz electric actuator when sized properly.
ICI's fail-safe device is available in several models with output current from 1 to 10 amps, and can be use in a wide variety of applications. Selection is made by matching the electric actuator's lock rotor current to the output current of the fail-safe device.
Standard equipment includes test switch, red (loss of power) and green (utility power) status lights.
Specifications
Print Specifications
WIRING NOTES:
T1 = NEUTRAL
T2 = 120V-1PH SUPPLY
T3 = NEUTRAL, OUTPUT
T4 = 120V-1PH OUTPUT POWER
T5 = 120V-1PH BACKUP POWER
T6 = NOT USED
SEE WIRING SCHEMATIC FOR DETAILS. BACKUP POWER IS SQUARE SINE
Dimension in inches.
Dimensions based on NEMA 4 enclosures manufactured by Wiegmann. ICI reserves the right to substitute other manufacturers' enclosures without notice so dimensions may vary.
Batteries are rechargeable lead-acid designed for long life (four to five years of dependable service life, or between 200 and 1000 charge/discharge cycles depending on the depth of discharge). Higher current units (10 amp) use batteries that have a design life of 10 years.
Standard Fail-safe enclosures are NEMA 4. Consult factory for NEMA 7.
Temperature ranges from 32° to 115° F.