In an emergency situation such a fire inside rail or road tunnels, or even underground passenger platforms, electric motor operated dampers in the ventilation system can act to clear smoke from the structure as well as to suppress spreading of the fire. Most electric actuators that operate these dampers are required to be "failsafe". They are equipped with mechanical springs that open (or close) the damper upon sudden loss of power. These electric spring return actuators automating dampers must also be able to work under extreme temperatures.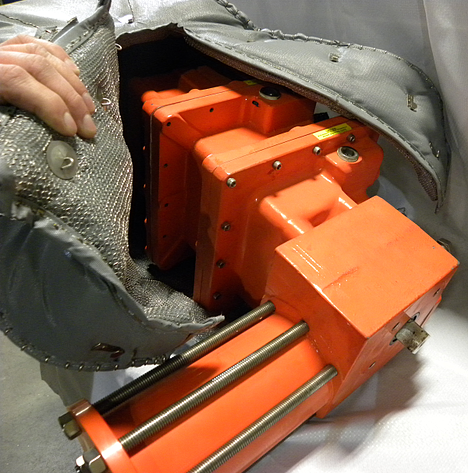 Recently Indelac Controls, Inc. (ICI) submitted one of its ACS electric spring return actuators incased in a ThermoArmor thermal blanket to Cascade Technical Sciences, Inc. for high temperature operational testing. The purpose of the test was to verify that ASC spring return actuators meet the specifications for use in tunnel application.
The actuator was installed in an environmental chamber, then the temperature inside the chamber was ramped up to 482°F (250°C). The actuator remained inside the chamber for duration of two hours and was powered open then closed every ten minutes.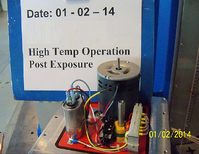 After the test was completed the actuator was inspected to determine the effect of high temperature exposure while protected by ThermoArmor thermal blanket. As can be seen in the picture, the ASC actuator suffered no damaging effect from the high temperature exposure.
This test unit met its operating specifications for cycle time, electronic operation and repeatability. High Temperature Operation Test for Indelac ASC Series incased in Indelac ThermoArmor Thermal Blanket was therefore a success.
Complete results of the test are accessible here.
ICI's ThermoArmor thermal blanket can be fitted to all of our actuators for use in short duration high temperature applications where continued valve or damper automation is critical.