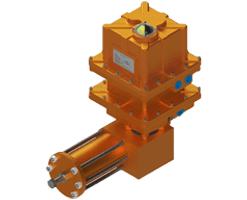 Model ASC12 electric spring return actuator is a robust heavy-duty actuator recommended for systems requiring as many as 18 cycles per day (approximately 6,500 annually). The ASC12 has a spring end torque of 1200 lb·in with a closing speed of 3 sec./90 degrees upon loss of power. This actuator is ideally suited for ball valves and dampers with torque ratings of up to 900 lb·in.
Standard equipment includes 115Vac, 50Hz - 60Hz, 1ph continuous duty motor, two limit switches, a clutch, stainless steel fasteners, a 300 series stainless steel output drive and polyester powder coating.
This electric spring return actuator also comes standard with thermal overload protection and is set to fail closed (via counter-clockwise rotation) upon loss of power.
Specifications
Print Specifications
Torque:
1200 Lb-In | 135 Nm
ENCLOSURE:
Standard:
NEMA 4 | IP65
Optional:
NEMA 7 | N/A
Coating:
Thermally Bonded Polyester Powder
Fasteners:
Stainless Steel | 300 Series
Output:
1.0″ Male
Mounting Pad:
ISO 5211 F10
Clutch:
Standard
Weight:
110 Lbs.
Installation:
Universal
Lubrication:
Permanent
Operational Temp. Range:
-40°F. to 150°F.
*Heater & Thermostat Required 0°F. & Below*
Cycle Time:
12 seconds/90° 115Vac
12 seconds/90° 230Vac
Duty Cycle:
Standard:
25% | 115Vac
Optional:
15 Minute | 230Vac
Motor:
Standard:
115Vac/1ph/50-60Hz
Permanent Split Capacitor
Thermal Overload Protection
Optional:
12Vdc
24Vdc
230Vac
L. R. Current:
115Vac = 2.91 amps
230Vac = 1.99 amps
Switches:
SPDT Snap Action
16 amp ½ HP 125V, 250Vac, 0.5amp 125Vdc