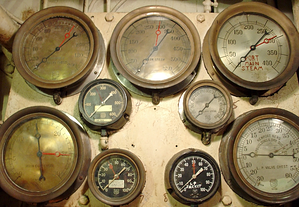 To ensure automated valve performance in today's sophisticated process control systems it is essential to develop a complete specification for each of the elements in the control package.
Though the valve actuator is the basic element in a valve automation package, pilot valves, limit switches, positioners, speed controls, transducers and other control accessories are necessary to properly communicate with the system and to characterize the performance of the automated valve to meet the process/flow control requirements.
The operating environment must also be considered and measures taken to ensure compatibility. This may include specifying the materials of construction or electrical design for area classification.
The following guide is for pneumatic actuators and controls only. It is assumed that the valve to be automated has already been selected based on its own unique ability to handle the service for which it is intended.
A complete valve specification for which an automated package may be specified should include:
Valve Size
Valve Type
Valve Manufacturer
Model #
Valve Torque (In-Lb)
Line pressure (Psi)
Media Temperature (°F)
Media (Slurry, Gas, etc.)
The most important step in developing an automated valve specification is to determine a sizing criteria. If a valve is to operate in a process handling clean liquids at moderate pressures and temperatures, the manufacturer's published operating torque is usually adequate for actuator sizing. Under certain conditions, however, the torque required to operate a valve may increase. In this case a sizing safety factor may need to be applied based on the following guidelines: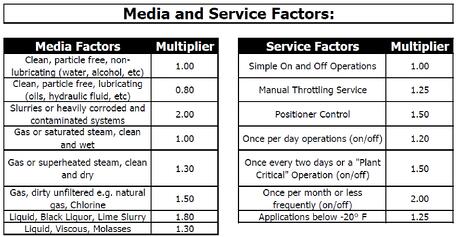 Note: Consult the valve manufacturer for specific Safety Factor recommendations.
A. Sizing Data
Valve Torque (In-Lb)

Sizing Safety Factor (%)

Double Acting or Spring Return

Fail Open or Close

Fail on: Electric only / Pneumatic only / Electric or Pneumatic

Operating Temperature Range (°F)

Min/Max Operating Speed (sec/90°) to open & to close
Also important to consider in pneumatic actuator sizing is the minimum air pressure available to power the actuator. If a range of pressure is available (60 - 90 psig for example) the minimum should always be specified for actuator sizing.
Minimum air pressure (psig)
B. Pilot Valve
Pneumatic actuators are usually piloted by a solenoid valve. The actuator manufacturer will size the valve flow rate to provide adequate speed of operation and economy. If faster or slower speeds are critical to a process this must be specified for more accurate pilot valve sizing. The following valve types are generally used for piloting actuators:
Double Acting Actuator 4-way, 5 ported, single coil
Spring Return Actuator 3-way, 3 ported, single coil
Except where noted the following specification guideline applies to both 3-way and 4-way valves:
Remote, local or direct mount
Remote: Located away from the actuator in a control panel or on a manifold.
Local: Located at the actuator and adapted to the supply port of the actuator with tubing and fittings.
Direct: Some actuator manufacturers offer an integral air manifold to which a solenoid valve may be direct mounted to eliminate tubing and fittings. (NAMUR Standard)
Materials of construction (aluminum, bronze, stainless steel) (aluminum is standard)
Coil Specifications
Coil voltage

Coil maximum temperature: Class A (230 °F),

Class F (310 °F) or

Class H (350 °F)

NEMA Rating (NEMA 4, NEMA 7 or NEMA 4X)

Energize to open or close

(When the pilot valve is energized will it drive the process valve open or closed?)
Pilot Valve Options
Manual Override: maintained, momentary or lock

Air Pilot (pilot valve action initiated by air pressure signal)

Single or Dual Coil (Dual coil available on 4-way valves only)
Speed control
The speed of operation of a pneumatic actuator can be regulated in one or both directions of a cycle. Most pilot valves are designed with NPT exhaust ports that may be fitted with a needle valve or speed control valves.
Open direction (seconds)
Close direction (seconds)
C. Limit Switches
Limit switches are used with pneumatic actuators to indicate the open, closed, or intermediate position(s) of the process valve. As an electrical device limit switches are enclosed in a housing designed to meet area classifications.
NEMA Rating (NEMA 4, NEMA 7 or NEMA 4X)

Switch styles: SPDT, DPDT, SPST, etc.

# of switches for Open, Close & other positions

Electrical Rating (Amps & Volts)

Visual Indicator

Switch designs:

Snap acting (mechanical switches/dry contact),

Hermetically sealed reed switches,

Non-contact (proximity type) or

Others-consult actuator supplier
D. Positioners
Positioners are used with piston actuators and some diaphragm actuators to convert a control signal to a valve position in modulating service. There are two basic styles of positioners: pneumatic and electro-pneumatic.
1. Pneumatic Positioners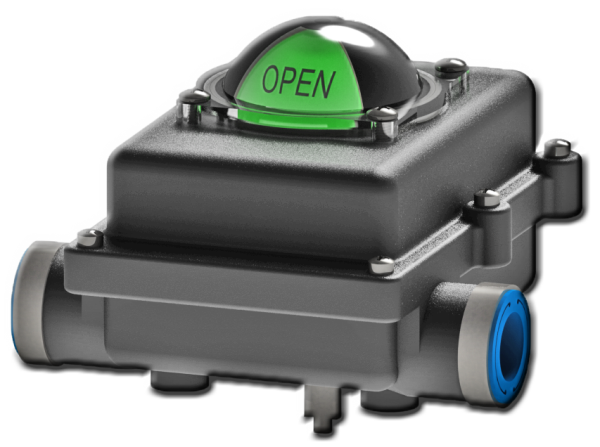 Input control signal (psig)

Signal/position (psig) for valve open & valve closed

Cam Style*: linear / quick opening / other

Visual Indicator
2. Electro-Pneumatic Positioners
Input control signal (maDC)

Signal/position (maDC) for

valve open &

valve closed

Cam Style*: linear / quick opening / other

Options:

Gauge set,

Internal limit switches
*Most off-the-shelf quarter turn valves have equal percentage flow characteristics. This is generally acceptable for most applications. If other characteristics are required a replaceable characterized cam may be used with most positioners.
3. Rotary Position Transmitter
A position transmitter provides continuous feedback of the valve position with a resistive or current output signal.
Resistive Feedback is achieved through a potentiometer but may not be accurate over long distances due to the inherent resistance of the wire

Specify resistive range/90° of rotation (Ohms)

Current Feedback is achieved through a resistance-to-current conversion circuit (RI) and is generally preferred for transmission over long distances. Output is 4-20 maDC over 90° of rotation

NEMA Rating (NEMA 4, NEMA 7 or NEMA 4X)
See Indelac Pneumatic Actuators: Double Acting & Spring Return
From
SVF
"How to Select an Actuator" Guide. Access their
Resource Library Here
.