To help recognize National Pollution Prevention Week, KPPC presented its 2013 Environmental Sustainability (ES) award to Indelac Controls in Florence Kentucky on September 10. KPPC has presented the ES awards in conjunction with National Pollution Prevention (P2) Week since 2009 to recognize Kentucky companies that have demonstrated a commitment to the principles of sustainability.
Those principles include:
Taking responsibility for the social well-being of employees and the community as a whole
Achieving economic benefits
Practicing environmental stewardship
Indelac began working with KPPC and the Alabama Technology Network (ATN) in 2012 to conduct a joint training/assessment event as part of the Kentucky E3 Initiative.
Kentucky E3 – Economy, Energy, and Environment – is a coordinated federal and local technical assistance initiative to help small and medium-size manufacturers adapt and thrive in a business era focused on sustainability. The assessment and training were designed to identify opportunities and develop an Action Plan in the areas of lean production, energy conservation and waste minimization.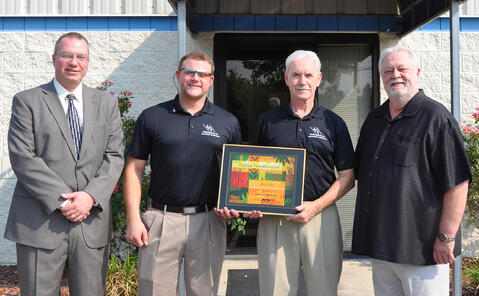 Photo shows (left to right) Richard Meisenhelder from KPPC, Matt Robinson with Indelac, Larry Robinson, president and CEO of Indelac and Cam Metcalf, Executive Director of KPPC.
Since the initial assessment, Indelac has created a cross-functional team that reviews and implements continuous improvement suggestions from management and staff. The team strives to implement Lean, Green and Clean recommendations and identify new ideas in a continual improvement cycle.
The ES Award recognizes Indelac's sustainability efforts which demonstrate the company's commitment to environmental stewardship and continual improvement.
Below is the video of the award presentation: